Pictures - QE2 and QM2
QE2 and QM2 at sea together in the Caribbean on 28 December 2004.

QM2 left Bonaire on 27 Dec and was bound for Barbados. QE2 sailed from Barbados at 2300 on the same day bound for Martinique. As the 28 December was a 'sea' day for both ships, QE2 set her course towards the QM2. When they met at 1200 on the 28th, the two ships were on reciprocal courses in position Lat 12 49' N Long 063 04' W. The QM2 maintained her course at a speed of 12 knots. QE2 passed down the starboard side of QM2 and then around the stern until she was on the same course. From then on until 1830 both ships steamed alongside each other at 12 knots. The ships changed sides and positions from time to time, similarly to the tandem crossing in April. The ships whistles were sounded several times.
QE2 From QM2




QM2 From QE2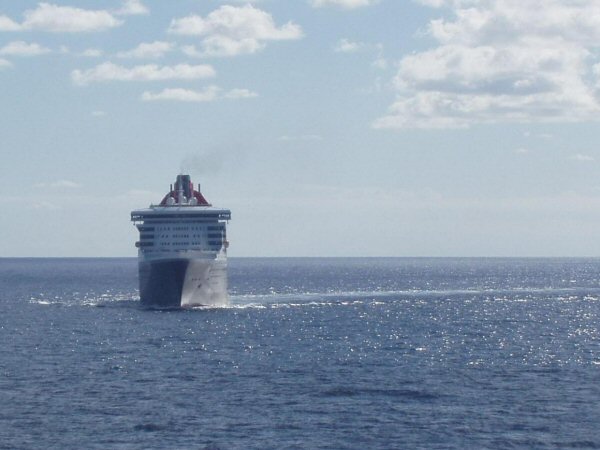 QM2 photographs provided courtesy of Kyle Johnstone. © Kyle Johnstone