News
November 2005 - First Dry-Docking
From the 8th to 19th November QM2 was at the Blohm and Voss dockyard in Hamburg, Germany completing her first dry docking.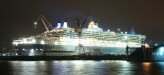 Photographs © Thorsten Totzke
12 January 2005 - Happy Birthday QM2!
Queen Mary 2 celebrates her first full year in service.
Since her departure from St Nazaire on 22 December QM2 has travelled 128,074 miles and called at 53 different ports. She has completed 13 Atlantic crossings and carried nearly 130,000 passengers.
17 May 2004 - Crew Member Medevac
At 1500 local time the first ever QM2 helicopter medical evacuation was carried out 89 miles west-south-west of Cape Hatteras. The crew member was lifted off by United States Coast Guard rescue helicopter "Elizabeth City". The heicopter was supported by a USCG C150 aircraft.

25 April 2004 - QM2 Embarks on Historic Eastbound Atlantic Crossing
On the evening of 25 April QM2 and QE2 departed New York together. After pausing for a fireworks display by the Statue of Liberty both liners set course for a tandem crossing of the Atlantic Ocean. This is the first time that two Cunard Queens have crossed the Atlantic together since the Queen Mary and Queen Elizabeth many decades ago.
See
detailed account
and
more pictures
.
---
22 April 2004 - QM2 Completes Maiden Westbound Atlantic Crossing
On 16 April QM2 departed Southampton for New York on her first North Transatlantic crossing. During the trip QM2 encountered typical Atlantic weather which included force 10 gales and fog. Despite having to reduce speed at times QM2 still arrived in New York on time, proving that she is a worthy successor to the QE2 on the North Atlantic.
---
13 April 2004 - QM2 Featured on Royal Mail 1st Class Stamp
The Royal Mail issued a special set of stamps to commemorate Britain's proud seafaring heritage. The Queen Mary 2 appears on the First Class stamp. Other Cunarders featured include the original Queen Mary (42p) and Mauretania (47p).
---
17 February 2004 - First Equator Crossing
Today QM2 crossed the Equator for the first time, while southbound to Brazil. The traditional Crossing the Line Ceremony was held on the aft deck and the Court of King Neptune made its first appearance on board QM2.
---
26 January 2004 - QM2 Completes Maiden Voyage
Today QM2 arrived in Fort Lauderdale, USA, having completed her Maiden Voyage from Southampton, England which began on 12 January.
---
12 January 2004 - Queen Mary 2 Departs on Maiden Voyage
Today Queen Mary 2 departed Southampton on her two week maiden voyage to Fort Lauderdale, Florida. There was a spectacular firework display to accompany the ships departure.

---
8 January 2004 - Queen Mary 2 Named by HM Queen Elizabeth II
Queen Mary 2 was officially named by Her Majesty Queen Elizabeth II in a spectacular naming ceremony which took place in the ship's home port of Southampton.
"I name this ship Queen Mary 2. May God bless her and all who sail in her."

---
26 December 2003 - Master of QM2 Named Commodore
Captain Ronald Warwick, master of Cunard Line's new Queen Mary 2, has been awarded the rank of commodore, the highest position a cruise line can bestow on one of its captains.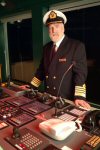 ---
26 December 2003 - QM2 Maiden Arrival in Southampton
Today Queen Mary 2 was welcomed to her British home port of Southampton for the very first time.
See also:
---
22 December 2003 - QM2 Hand-Over
Today the QM2 was officially handed-over by the French shipbuilders to Cunard and became a British ship. QM2 sailed from St Nazaire at 15:30 this afternoon. After a brief visit to Vigo (Spain) for further testing and trials the ship will sail for her home port of Southampton. She is due to arrive in England for the first time on Boxing Day.